7 Best Patio Gazebos of 2023 - Find the Perfect Gazebo
Choosing the perfect gazebo to enhance your outdoor living space can be tricky with so many options on the market. To make your buying decision easier, we've compiled a list of the 8 best gazebos of 2023. These top picks range from the best overall gazebo to the most stylish design, covering every backyard need.
In this comprehensive guide, you'll discover gazebos made of durable aluminum, natural cedar wood, and resilient steel. Whether you need shelter from the sun, wind, or rain, these sturdy gazebos withstand the elements in style. From hardtops to pop-ups, you're sure to find the ideal canopy to create an inviting patio oasis this year.
The gazebos featured include the following:
Paragon Outdoor Cambridge Hard Top Gazebo - Best Overall
Canopia Monaco Hexagon Gazebo - Most Stylish
Palram Canopia Tucson Gazebo - Most Durable
Sojag Verona Gazebo - Best Bang for Your Buck
Sojag Sanibel II Gazebo - Best for All Seasons
YOLENY Hardtop Gazebo - Best Hardtop
Backyard Discovery Arlington Cedar Gazebo - Best for High Winds
Best Gazebos of 2023 - Out Top Picks
The Paragon Outdoor Cambridge Hard Top Gazebo is the best overall gazebo for your backyard needs. With its durable aluminum frame and composite roof panels, this gazebo is built to last while providing an elegant focal point to your outdoor space.
The rust-resistant aluminum frame and UV-protected materials ensure this gazebo holds up against the elements. Twin-layer aluminum roofing helps insulate the interior, reducing noise and providing shade. Despite its large size, the gazebo is designed for easy assembly with anchoring hardware included.
With stunning good looks and a solid 10-year frame warranty, the Paragon Outdoor Cambridge gazebo is an investment that will enhance your backyard for years to come.
Key Features
Wind escapement for added stability
Rust-free aluminum materials for longevity
Twin-layer aluminum roof for enhanced protection
Anchoring hardware included for secure installation
Powder-coated frame for a sleek finish
Entire structure is UV-protected for lasting beauty
Manufacturer Warranty: 10 Years on Structure, 5 Years on shell
Pros
Durable and long-lasting construction
Provides shade and reduces noise
Resists rust and UV damage
Straightforward assembly with included hardware
Lengthy 10-year frame warranty
Cons
Some customers experienced water leakage at joints, potentially due to installation issues

Aligning holes for the roof may require additional effort
Price
$2,750.00
Final Verdict
With its protective aluminum and composite build, insulation properties, and lengthy frame warranty, the Paragon Outdoor Cambridge Hard Top Gazebo is an exceptional choice for a permanent backyard structure. Minor assembly challenges are outweighed by the gazebo's durability, aesthetic appeal, and large footprint. For a gazebo that will hold up for years against the elements while providing outdoor living space, the Cambridge model is a superb overall option.
The Canopia Monaco Hexagon Gazebo is an elegantly designed outdoor structure that creates the perfect sheltered spot for backyard gatherings. With its durable aluminum frame and weather-resistant polycarbonate panels, this gazebo provides stellar protection from the elements while elevating your outdoor decor.
The hexagonal shape and ornamental roof add visual flair while the integrated rain gutters keep things dry inside. Though assembly requires some effort, once set up this gazebo becomes a stylish and functional focal point for your yard.
Key Features
6mm polycarbonate panels filter over 99% of UV rays
Corrosion-resistant powder-coated aluminum frame
Integrated rain gutters and downspouts
Ventilated roof eliminates humidity
Bronze-glazed roof panels allow soft natural light
Anchor bolts included for secure installation
Withstands tough weather conditions
Pros
Exceptional UV protection for added safety
Stylish and elegant design complements any outdoor space
Integrated rain management keeps you dry during light rain
Optimal ventilation enhances comfort for all activities
Filtered natural light creates an inviting ambiance
Cons
Instructions are poorly written which makes it difficult to assemble
Hexagonal shape provides less coverage than square gazebos
Price
$2,569.99
Final Verdict
With its resilient build, integrated water management system, and ornate hexagonal shape, the Canopia Monaco Gazebo creates an elegant and functional gathering area for your backyard. Though tricky to assemble, its durable construction and stylish look make this a gazebo that will enhance your outdoor space for years to come. If you want a decorative gazebo that provides stellar protection from the elements for outdoor entertaining, the Canopia Monaco is an excellent choice.
The Palram Canopia Tucson Gazebo is designed to enhance your outdoor space by providing shade and shelter from the elements. With its corrosion-resistant aluminum frame and shatterproof polycarbonate roof panels, this gazebo is built to withstand all types of weather.
The key features that make the Tucson gazebo stand out are its durable construction and UV protection. The powder-coated aluminum frame is rust resistant while the bronze-tinted polycarbonate roof blocks 99.9% of harmful UV rays. Integrated rain gutters and anchors provide stability in wind and rain.
Key Features
6mm bronze polycarbonate roof blocks 99.9% of UV rays
Provides 85% shade from sunlight
Robust aluminum frame resists corrosion
Integrated rain gutters and anchoring kit
Withstands wind speeds up to 75 mph
Designed for all weather conditions
10-year limited warranty
Easy assembly with pre-drilled parts
Snow load capacity of 31 lbs/sq ft
Pros
Durable and stable construction
Provides ample shade
Easy DIY assembly with pre-cut parts
Attractive design blends into any yard
Cons
The large size makes anchoring a challenge

Some users found the gutters to be less effective than expected
Price
$3,151.26
Final Verdict
With its rugged build and sleek looks, the Palram Canopia Tucson Gazebo is one of the most durable and attractive gazebos on the market. The sturdy aluminum frame and UV-blocking roof stand up to years of use in any climate. Minor gutter issues aside, this gazebo provides excellent shelter and enhances your outdoor living space. For those seeking maximum durability with style, the Tucson gazebo is a superb choice.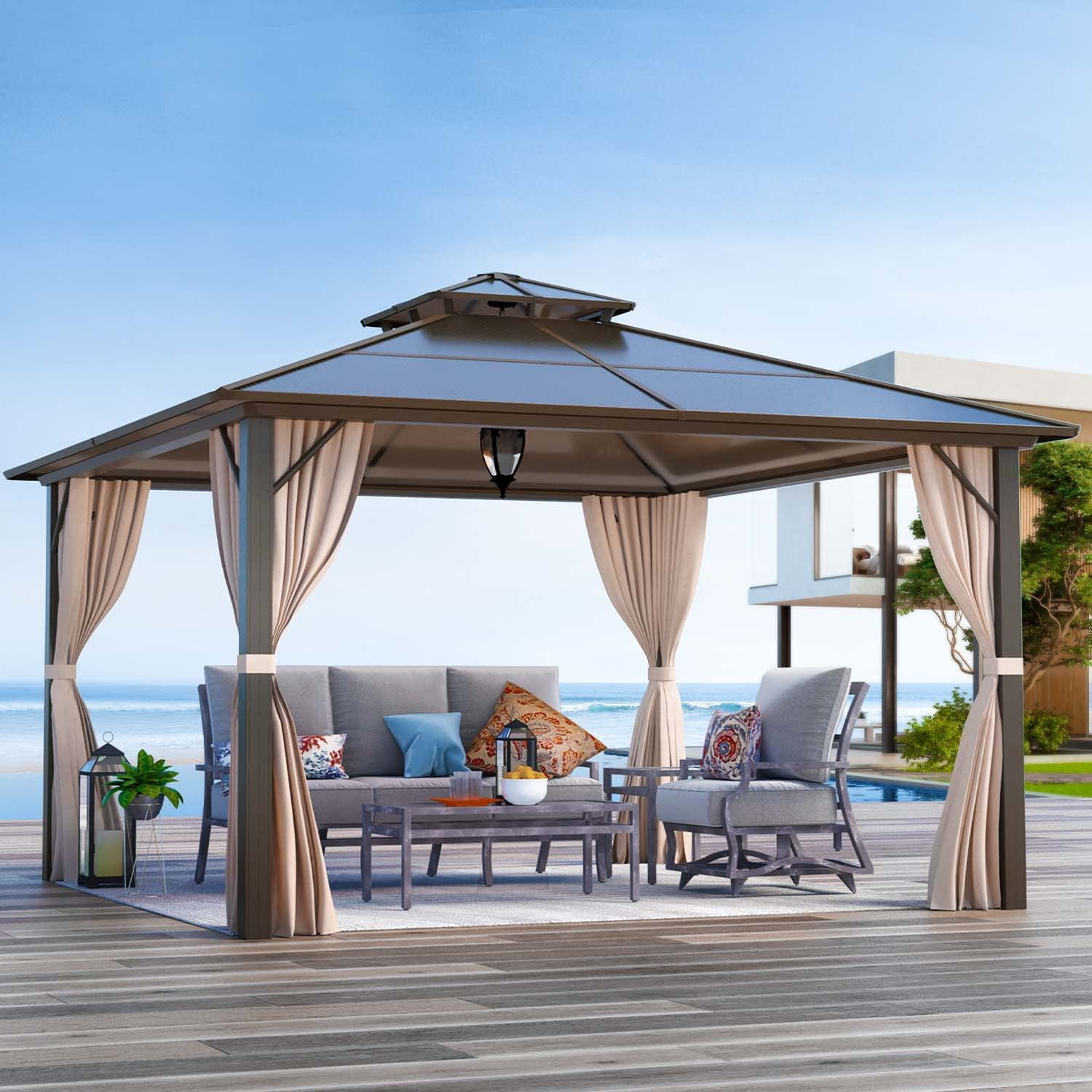 The YOLENY gazebo features heavy-duty steel construction and a powder-coated frame designed for rust resistance and longevity. The roof consists of ventilated double polycarbonate panels that block UV rays while allowing airflow.
The YOLENY gazebo comes with zippered side curtains and enclosed netting to keep out insects, wind, and rain. With abundant shade and shelter from the sun and weather, this gazebo creates a comfortable outdoor living space for your patio or yard.
Key Features
Sturdy steel frame with powder coating to prevent rust
Double polycarbonate roof blocks UV rays and resists high temperatures
Zippered side curtains and enclosed netting keep elements out
4 sturdy pillars with a triangle structure for stability
Bolt connections and welded T-frame enhance durability
Ventilated roof allows wind to pass through
Zippered netting on all 4 sides for privacy and insect protection
Pros
Durable steel construction built to last
Excellent UV protection from polycarbonate roof
Provides privacy and insect protection
Spacious interior for seating and activities
Withstands wind, rain, and extreme temperatures
Cons
Instructions lack sufficient detail and text
Some bolts are in awkward positions for assembly
Price
$949.99
Final Verdict
The YOLENY Hardtop Gazebo is a high-quality option built with durability in mind. While assembly can be extremely difficult and frustrating, once constructed this gazebo provides exceptional shelter and longevity. If you want a sturdy gazebo that will hold up for years against the elements, the YOLENY is an excellent choice. Its rugged steel frame and double polycarbonate roof can withstand any kind of weather. For a durable and protective backyard gazebo, the YOLENY Hardtop Gazebo is highly recommended.
If you're looking for an all-season gazebo that provides excellent value, the Sojag Verona Gazebo should be at the top of your list. With its sturdy construction and weather-resistant materials, this gazebo gives you the most bang for your buck.
The aluminum frame boasts a premium powder coating that resists corrosion and rust. Combined with the tinted finish, it provides durability and style. The polycarbonate roof panels are designed to withstand the elements while allowing sunlight to filter through.
Key Features
Durable powder-coated aluminum frame
Premium polycarbonate roof panels
Built-in discreet track system for netting and curtains
Includes nylon mosquito netting
Meets international fire safety standards
DIY assembly with no tools needed
Pros
All-season durability
Filters sunlight while blocking UV rays
Resists corrosion and rust
Easy to attach curtains and netting
Provides shade and prevents bug bites
Cons
Assembly can be time-consuming
Doesn't block all sunlight
Price
$1,199.99
Final Verdict
When you consider the quality construction and all-weather performance of the Sojag Verona Gazebo, it provides exceptional value for the price. The sturdy aluminum and polycarbonate materials are built to last for years of enjoyment. Though assembly takes time, the end result is a gazebo that can be used year-round with the right accessories. For those wanting an attractive and durable gazebo without breaking the bank, the Verona Gazebo is arguably the best bang for your buck.
The Sojag Sanibel II Gazebo is our pick for the best gazebo to enjoy throughout the year. The Sanibel II features robust, powder-coated aluminum framing paired with rugged galvanized steel roof panels that hold up to the elements.
This heavy-duty construction meets rigorous CPAI-84 safety standards, resulting in a stable, all-season gazebo. While DIY assembly takes time, the high-quality parts fit together precisely. And once built, the sturdy roof resists rattling in windy conditions. With three versatile roof design options, you can customize both the look and utility of your gazebo.
Key Features
Durable powder-coated aluminum frame and galvanized steel roof
Interpon AkzoNobel powder coating protects against corrosion
Three roof design options for customized style
Discreet two-track system for attaching curtains and mosquito net
Includes functional nylon mosquito netting
Meets CPAI-84 international safety standards
DIY assembly with basic tools
Pros
Heavy-duty construction built to last year-round
Corrosion-resistant frame and roof
Roof won't rattle in windy conditions
Customizable roof design and utility
Includes mosquito netting for comfort
Cons
Time-consuming DIY assembly
Privacy curtains not included
Price
$1,329.99
Final Verdict
For a gazebo that provides durable shelter in any season, the Sojag Sanibel II is an excellent choice. The sturdy construction withstands all types of weather and resists rattling in the wind. While assembly takes time, the result is a stable, customizable gazebo perfect for relaxing throughout the year. With its all-weather performance and design options, the Sanibel II Gazebo is our top pick as the best gazebo for enjoying your outdoor space in every season.
The Backyard Discovery Arlington Cedar Gazebo is an elegantly designed gazebo that provides shade and protection from the elements. Made entirely from cedar wood, this gazebo is naturally resistant to decay and damage.
The Arlington gazebo is certified by Backyard Discovery's PRO-TECT system to withstand up to 100mph winds, 6,391 lbs of weight, and 30 inches of snow load. This heavy-duty construction makes Arlington an ideal choice for areas with frequent storms and high winds. The insulated steel roof further reduces heat transfer by up to 20 degrees, keeping the interior cooler.
Key Features
NATURALLY RESISTANT TO DECAY: Made from 100% Cedar Wood
WIND TESTED: PRO-TECT® Certified to withstand up to 100 mph winds
HEAVY DUTY: 29 gauge brown steel roof provides dent and corrosion resistance
COMFORT IN ANY REGION: Insulated steel roof reduces heat transfer by up to 20 degrees
POWDER-COATED STEEL: Brackets and hardware are powder-coated steel lending to element endurance
DURABLE STEEL ANCHORING PLATES AND FEET: Externally mounted anchoring plates and steel feet prevent movement and decay from ground moisture
EASY ASSEMBLY: Pre-cut, pre-drilled, pre-stained, and supported by the step-by-step interactive BILT® app
Pros
Withstands high winds up to 100mph
Insulated roof keeps interior cooler
Durable steel anchoring plates prevent movement
Easy step-by-step assembly
Made from decay-resistant cedar wood
Cons
Some pieces may arrive with a peeling stain
May need minor adjustments during assembly
Price
$2,299
Final Verdict
The Backyard Discovery Arlington Cedar Gazebo is an ideal choice for homeowners dealing with high winds, storms, and extreme weather. Its durable construction can withstand winds up to 100mph, while the insulated roof keeps the interior comfortable year-round. Minor assembly issues can be expected with any gazebo kit, but overall the Arlington provides an elegant and protective backyard shelter. For its resilient performance in tough weather conditions, the Arlington Cedar Gazebo earns our recommendation as the best gazebo for high winds.
Things To Look For When Buying a Patio Gazebo
When shopping for the perfect patio gazebo, keep these key factors in mind:
Materials
Look for powder-coated aluminum or galvanized steel frames, which resist rust and corrosion.
Polycarbonate, vinyl, or acrylic are good canopy materials that endure weathering.
Wood offers elegance but requires more maintenance.
| Material | Pros | Cons |
| --- | --- | --- |
| Powder-coated aluminum | Durable, rust-resistant | More expensive |
| Galvanized steel | Withstands weather | Prone to dents |
| Polycarbonate | Impact resistant, blocks UV rays | Can yellow over time |
| Wood | Attractive, natural material | Requires maintenance |
| Vinyl | Low maintenance | Less durability |
Size
Consider the gazebo footprint and height needed for your space and activities.
Measure patio dimensions to ensure proper fit.
Allow ample clearance around the structure.
Shape
Square and rectangular gazebos maximize interior space while round and polygonal designs provide a unique style.
Roof Style
Solid roofs provide more shade and shelter while vented tops allow airflow.
Some roofs have removable panels.
Accessories
Many gazebos accommodate handy accessories like curtains, bug screens, lighting, and fans.
Look for built-in features or accessory compatibility.
Assembly
Prefabricated kits are easier to assemble than custom-built gazebos.
Some have detailed instructions while others require professional installation.
Wind and Snow Load
Check wind and snow load ratings to determine durability.
Gazebos meant for year-round use are more rugged.
Aesthetics
Choose a style and finish that complements your outdoor décor.
Consider both color and architectural details.
Warranty
More extensive warranties offer peace of mind and indicate better quality materials and manufacturing.
Price
Consider your budget but note you get what you pay for in terms of quality, materials, and durability.
Keeping these criteria in mind will help you select the ideal gazebo that fits your patio, matches your lifestyle, and provides lasting performance season after season. Check specifications carefully and evaluate options to find the perfect blend of style, functionality, and value.
Final Words
With the wide range of durable and stylish gazebos covered in this guide, you're sure to find the best outdoor shelter to enhance your backyard. From heavy-duty hardtops that withstand extreme winds to decorative pop-ups that assemble in minutes, there's a gazebo here to meet every style and need.
Focus on key factors like the construction materials, weather resistance, and ease of assembly as you choose the ideal canopy. And keep design elements in mind - a gazebo with the right aesthetics can transform your outdoor space. With the top gazebos of 2023 highlighted here, you can relax knowing your new backyard focal point will provide lasting beauty and protection for years of alfresco living.
What is a patio gazebo?
A patio gazebo is a structure that is designed to provide shade and protection in an outdoor space, such as a patio or backyard. It usually consists of a metal frame with a canopy or roof.
Are pop-up gazebos a good option for outdoor use?
Yes, pop-up gazebos are a popular choice for outdoor use. They are easy to set up and take down, making them convenient for events or gatherings. However, they are not as durable as permanent gazebos.
Do gazebos come with a canopy or roof?
Yes, gazebos typically come with a canopy or roof. This provides shade and protection from the elements, such as sun and rain.
Can a gazebo withstand strong winds?
The ability of a gazebo to withstand strong winds depends on its design and construction. Some gazebos are made with sturdy materials and have features that enhance their wind resistance, such as vented tops and strong metal frames.
Are gazebos waterproof?
Many gazebos are designed to be waterproof, meaning they can protect you from rain showers. However, it's always a good idea to check the specifications of a specific gazebo to ensure that it is indeed waterproof.
Do permanent gazebos require any special maintenance?
Permanent gazebos may require some regular maintenance to ensure that they last long. This can include inspecting and repairing any damage, cleaning the structure, and treating the materials to protect against weathering.
About The Author
Andy Wu - Resident Expert