Are Lifetime Sheds Any Good? An In-Depth Review
With a shed, you can neatly tuck away seasonal items, tools, sports equipment, lawn care accessories, and more. However, not all storage sheds are created equal. You'll want one that is strong, secure, weather-resistant, and designed to last. That brings us to Lifetime Sheds. As a leading brand, Lifetime offers a range of plastic outdoor sheds that promise to check all the right boxes.
But are Lifetime sheds really worth the investment compared to other shed options on the market? In this in-depth review, we'll explore the key features and benefits of Lifetime sheds, look at popular models, evaluate pros and cons, dive into customers' feedback, and provide our final verdict on whether these well-known sheds are worth the investment.
Key Takeaways:
Lifetime sheds are made from durable, weather-resistant polyethylene plastic that won't rot, peel or fade. They can withstand harsh weather conditions for years.

Sturdy steel-reinforced doors with padlock provide security. Impact-resistant plastic walls deter theft.

Minimal maintenance is required. You'll never need to paint or stain a Lifetime shed. Just wash occasionally with soap and water.

Although pricier upfront than some brands, Lifetime sheds earn praise for their durability, storage capacity, security, and longevity in customers' feedback.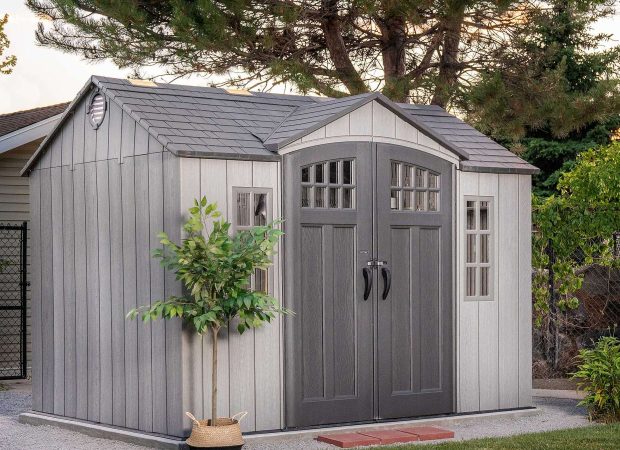 Lifetime Sheds Standout Features and Benefits
Lifetime Products is one of the biggest manufacturers of polyethylene plastic sheds. The company uses high-density polyethylene (HDPE) plastic which is UV protected and designed to stand up to weathering and heavy use. Lifetime sheds offer several standout features and benefits:
Durable Construction Withstands Elements
Lifetime sheds are made from blow-molded polyethylene plastic which is dent, warp, rot, and fade-resistant. The heavy-duty plastic construction holds up incredibly well to rain, snow, wind, UV rays, humidity, and temperature swings. These sheds can withstand even the harshest weather conditions year after year.
The sheds won't rust, peel, crack, or require ongoing repairs like paint or stain touch-ups which are needed with wooden sheds. The durable building also resists termites and other pests.
Range of Sizes For Varied Storage Needs
Lifetime sheds are available in a wide variety of sizes. With the diverse range, you can find a shed suited for storing lawn tools and equipment, pool accessories, bicycles, ATVs, large outdoor furniture, and more.
Sheds with wide double doors are perfect for riding mowers, while taller models offer plenty of overhead storage space. Compact sheds are great for tucking into small yards.
Sturdy and Secure Construction
Almost all Lifetime sheds feature reinforced steel doors that securely lock with an included padlock. Walls and roof panels are engineered for structural stability and strength. The durable polyethylene plastic formation is also impact-resistant if struck by flying debris in storms.
These sheds provide safe and secure storage for your valuables. Anti-lift brackets prevent anyone from detaching and stealing the entire shed.
Low-Maintenance and No Painting Needed
Lifetime shed is virtually maintenance-free. You'll never need to paint or stain it. Just wash it off occasionally with a garden hose and some mild soap to keep it looking new. The durable polyethylene plastic panels are not harmed by sun, rain, snow, or temperature extremes.
You'll avoid the endless work of prepping, priming, painting, and re-painting a wood shed every couple of years. Once assembled, a Lifetime shed will last for years with minimal upkeep required.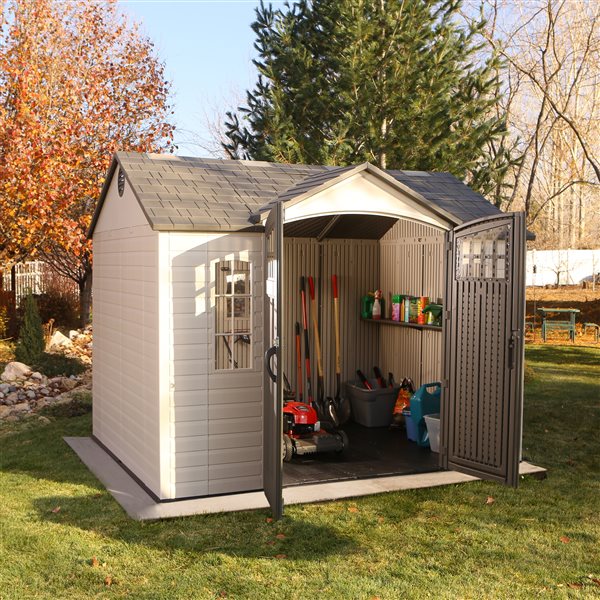 Lifetime Sheds: The Pros and The Cons
Now that we've looked at key features and popular models, let's evaluate some of the pros and cons of Lifetime sheds:
Pros
Exceptional durability

 

- Constructed from weather-resistant polyethylene plastic that won't rot, peel, or fade. Withstands harsh weather.
Wide range of sizes

 

- Models of a wide range of sizes. Fits every backyard.
Long warranty

 

- 10-year limited warranty backs quality.
Low maintenance

 

- No painting, staining, or other frequent upkeep.
Sturdy formation - Sturdy walls, roof panels, and steel-reinforced doors provide security.
Snow load rated

 

- Some models are rated for heavy snowfall zones.
Cons
Higher price

 

- Lifetime sheds cost more than some competitors upfront.
Bulky design

 

- Polyethylene plastic walls are thick and bulky by nature.
While Lifetime sheds have outstanding durability and weather resistance, the upfront cost is higher than cheaper metal or wood sheds which may deter some buyers. Assembly is more involved than some arrow or pop-up shed kits. However, their step-by-step instruction makes the assembly process quite easier.
However, customers report the solid polyethylene build and quality materials make the investment worthwhile if you want a sturdy, low-maintenance backyard shed.
Customer Reviews and Ratings of Lifetime Sheds
To better evaluate real-world performance and customer satisfaction, we looked at Lifetime shed ratings from several sites. Here is an overview of what customers have to say:
On Home Depot's website, the Lifetime 8 x 10 ft. Outdoor Storage Shed scores an average of 4.4 out of 5 stars with over 220 reviews. Positive feedback cites the excellent quality, sturdy building, and good value for price. One 5-star reviewer says "This shed exceeded my expectations! Was very easy to assemble with 2 people in a matter of hours. Very sturdy and roomy for all my tools and equipment with lots of headroom to hang long items."
On Amazon's site, the slightly smaller Lifetime 8 x 10 ft. Outdoor Storage Shed earns a 4.3 out of 5-star average rating after 427 customer comments. One pleased buyer says "Assembly was relatively easy even for one person. Very sturdy shed. Love the high ceilings and all the space inside."
The  8'x10' 60202 shed model garners a 5 out of 5-star rating on our website. Positive evaluations mention the shed's durability and spacious interior. One customer says "This shed is very sturdy and was easy to assemble with 2 people. I love the skylights and the shed is definitely big enough to hold all my garden tools and supplies."
Across major retailers and direct from their site, Lifetime Sheds consistently earn high ratings and praise in customers' feedback. The most commonly highlighted positives are the durable polyethylene formation, large interior capacity, ease of assembly with two people, and good value. Most reviewers mention the shed's sturdiness and ability to withstand weather extremes in their backyard.
Here is a quick rundown of Customer Ratings on Major Retailer Sites:
| Website | Shed Model | Rating | Number of Reviews |
| --- | --- | --- | --- |
| Home Depot | 8 x 10 ft | 4.4 stars | 220+ |
| Amazon | 8 x 10 ft | 4.3 stars | 427 |
| Amazon | 8 x 12.5 ft | 4.2 stars | 270 |
Final Verdict: Are Lifetime Sheds Any Good?
Due to their weather-resistant durable building, secure steel-reinforced doors, low-maintenance plastic walls that won't rot or peel, and ability to withstand wind, snow, and rain, Lifetime sheds earn high marks and are worth the investment for many homeowners.
While they come at a higher upfront cost than lower-priced wood or metal sheds, Lifetime sheds pay off in the long run with their 10-year warranty and years of use without the maintenance headaches of wood sheds. Assembly takes effort and two people, but owners report the finished sheds to feel solid.
The range of shed sizes with optional features like windows and skylights allows you to customize for your needs. Whether you need a small shed for gardening supplies or a large shed for ATVs and tractors, Lifetime makes a rugged polyethylene shed suited for the task.
For homeowners wanting maximum weather resistance, security, longevity, and low maintenance, Lifetime sheds are well worth the investment. But budget buyers or those looking for a more DIY-friendly wood build may prefer cheaper alternatives. Make sure to compare Lifetime Sheds to other brand options that may better meet your needs and budget.
Conclusion
Hopefully, this guide has given you a detailed look at Lifetime shed benefits, downsides, and what customers are saying after buying and installing these popular polyethylene plastic storage buildings. They provide durable and secure outdoor storage for years to come.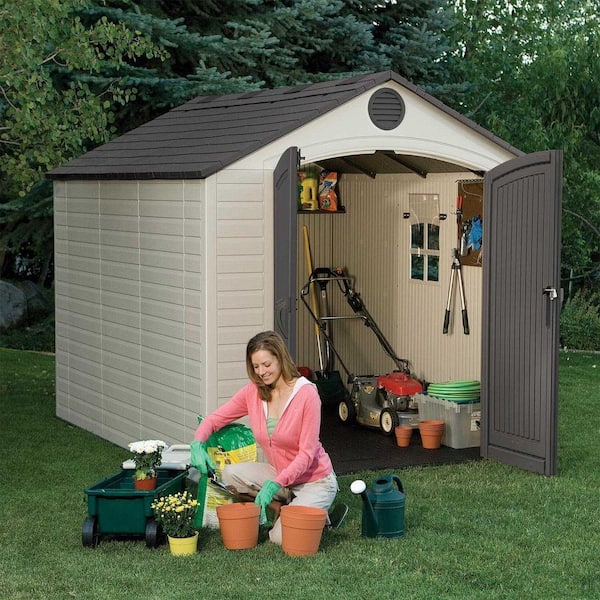 FAQs
Can I Buy Lifetime Sheds Online?
Yes, you can purchase Lifetime sheds online. You can also buy one from our site. We offer a variety of Lifetime shed models and sizes for easy and convenient shopping. Contact us now.
How Do I Determine the Right Size of Lifetime Shed to Buy?
When choosing a Lifetime shed, consider the amount of space you have available in your yard and the items you plan to store. Measure the dimensions of the area where you want to install the shed and compare it to the available shed sizes.
How Do I Prepare the Base for Installing a Lifetime Shed?
Before installing a Lifetime shed, you need to prepare a suitable footing. Options include a concrete slab, wooden platform, or foundation blocks. Ensure the foundation is level and sturdy to support the weight of the shed.
What Makes Lifetime Sheds Weather Resistant?
Lifetime sheds are made from high-density polyethylene (HDPE) with UV protection, making them resistant to fading, cracking, and warping. They are also designed with a pitched roof and water-resistant seals to provide excellent weather resistance.
Do Lifetime Sheds Require Maintenance?
Lifetime sheds require minimal maintenance. Periodically check for any loose components or damage, and clean the shed with mild soap and water if needed. The materials used in Lifetime sheds are designed to be low maintenance and long-lasting.
Can I Customize the Interior of my Lifetime Shed?
Yes, you can customize the interior of your Lifetime shed to fit your storage needs. There are various accessory options available, such as corner shelves, pegboards, and tool racks, to help maximize the storage space.
Are Lifetime Sheds Available at Home Depot?
Yes, you can find Lifetime sheds at Home Depot. They offer a variety of Lifetime shed models and sizes both in-store and online for your convenience.
About The Author
Andy Wu - Resident Expert