How to Install a Lifetime Shed: A Step-by-Step Guide
Installing a Lifetime brand shed can provide much-needed storage space in your backyard or property. With proper planning and preparation, assembling a Lifetime shed is a rewarding do-it-yourself project.
This comprehensive guide will walk you through the entire process of choosing, preparing for, and installing a high-quality Lifetime storage shed.
Key Takeaways:
Choose the right Lifetime shed size based on your storage needs and property dimensions, leaving at least 1 ft clearance. Select models rated for heavy snow loads if needed.

Prepare the site by leveling the ground, clearing debris, and adding a gravel base for drainage. This prevents future sinking or shifting.

Follow the manual to assemble the floor frame, wall panels, and roof in order. Use provided tools and reinforcements for sturdy construction.

Install pre-hung doors on hinges and add windows or skylights for natural light. Adjust hardware for smooth operation.

Weatherproof with caulk at seams, then customize the interior and exterior with storage systems, paint, or stain for a finished look.
Brief Overview of Installing a Lifetime Shed
Lifetime sheds are a popular choice for durable and customizable backyard storage. Made from weather-resistant polyethylene, these sheds come in a variety of sizes to fit your needs. Installing a Lifetime shed yourself allows you to save on labor costs while ending up with the perfect shed for your space.
With the right tools, materials, and basic construction skills, you can have a Lifetime shed fully assembled and ready to organize in 1 to 2 days. This process requires:
Choosing the right Lifetime shed size
Preparing and leveling the installation site
Assembling the shed frame, roof, and wall panels
Adding doors, windows, and other fittings
Finishing touches like weatherproofing and decorating
Follow these steps correctly, and you'll end up with a sturdy and stylish Lifetime shed that will serve as a useful outdoor storage solution for years to come. Let's get started!
Planning Your Lifetime Shed
Before starting the installation, some key planning steps will ensure your shed meets your needs and fits the space properly.
Choosing the Right Lifetime Shed Size
Lifetime offers shed sizes ranging from small (5 x 3 ft) to large (12 x 20 ft). Consider how you plan to use the shed and how much storage space you need. Some common Lifetime shed sizes include:
8 x 5 ft - Good for storing long-handled tools and lawn equipment. Around 200 cu. ft. of storage.
8 x 7.5 ft - Fits push and riding mowers. Around 240 cu. ft. of storage.
8 x 8 ft - Provides ample room for furniture and large gear. Around 256 cu. ft. of storage.
10 x 15 ft - Offers extensive storage with over 375 cu. ft. Fits multiple vehicles.
Also, factor in the dimensions of your backyard or installation site. Make sure to leave a clearance of at least 1 foot around the shed for accessibility.
Snow Load Considerations
If installing in an area with heavy winter snowfall, select a shed sized to handle the expected snow load. Lifetime offers snow load kits for many models to reinforce the roof. Choose a shed with:
Steeper roof pitch to prevent snow accumulation
Strong polyethylene construction rated for snow weight
Available snow load reinforcement kit
Consult your specific area's building codes for shed snow load requirements. Prepping the shed for snow can prevent roof collapse or other winter weather damage.
Site Selection and Preparation
Pick a level section of your property with good drainage to situate the shed. Measure the site in all directions to ensure enough room for the shed with at least a 1-foot clearance. Consider:
Sun exposure - A shady spot prevents the shed from heating up in summer
Accessibility - Leave room to open doors and access all sides
Yard features - Avoid buried pipes/wiring or pools/gardens with shed placement
Proper site preparation is key to a long-lasting shed. This involves:
Clearing away debris, bushes, and obstructions
Leveling the ground or pouring a concrete pad (required for sheds over 8 x 8 ft)
Gravel base of 4-6 inches for drainage under the shed (optional)
Prepping the site in advance will make installing the shed smooth and prevent future shifting or sinking.
Here is a comparison of different base options for supporting the shed floor:
| Base Type | Material Needed | Labor | Cost |
| --- | --- | --- | --- |
| Concrete Slab | Concrete mix, gravel | High | High |
| Patio Pavers | Pavers, gravel, sand | Medium | Medium |
| Treated Wood | Wood boards, gravel | Low | Low |
Assembling the Lifetime Shed Frame and Wall Panels
Once the site is ready, it's time to assemble the shed components. Have any tools needed on hand, like:
Power drill and bits
Level
Hammer or rubber mallet
Utility knife
Ladder
Always carefully follow the assembly manual specific to your Lifetime shed model. Here are the general steps to assemble the main shed structure:
1. Construct the Floor Frame
The floor frame pieces slide together to form a square or rectangular base. The ends may feature side frames that attach perpendicular to the floor frame.
Join the floor frame rails by sliding the corners together. Tap with a mallet to ensure a tight fit.
Add the end side frames if included. Secure with provided nuts and bolts.
Place the floor frame on the prepared site, using a level to ensure it sits evenly.
2. Install the Wall Panels
The shed's wall panels attach to the outer frame to form the shed's box shape. Panels may have small windows or vents pre-cut.
Lift each wall panel and insert its top edge into the frame's top rail.
Swing the bottom down and attach to the floor frame using bolts.
Check each wall for plumb using a level as you go.
3. Construct the Roof
Lifetime shed roofs come in several pieces that require assembly. The main roof beams attach to the top frame rails to support the roof panels.
Bolt the roof beam halves together to span the shed width.
Set the roof beams into position on the wall panel frame. Secure using the provided hardware.
Lay roof panels along the beams, overlapping in a shingle fashion. Drill holes and bolt into the roof frame.
For sheds with gable roofs, repeat on the second side. Overlap roof panels in the center.
4. Add Structural Reinforcement (Optional)
For added wind and snow resistance, Lifetime offers reinforcement brackets, anchors, and kits:
Floor anchors bolt through the floor into the ground.
Wall brackets connect to wall studs for lateral stiffness.
Roof anchors bolt the roof to walls to prevent uplift.
Install any reinforcements following the specific model's manual guidance. This added structural support is useful in climates with snow, storms, or high winds expected.


Installing the Shed Doors and Windows
Once the structure is fully assembled, installing the doors and windows gives your shed an attractive finished look:
Add the Entry Doors
Lifetime sheds come with one or two swing-out doors with pre-attached hinges.
Insert door hinge pins into the holes in the door jambs.
Attach door handles and any locking hardware. Adjust to ensure smooth opening and closing.
Install the Windows
Many Lifetime sheds include small polyethylene windows to allow light inside.
From the outside, place each window frame into the panel openings.
Insert provided retainer strips from inside the shed, tapping into place with a mallet.
If adding glass windows, follow the specific mounting kit procedure. Apply weatherstripping tape for a tight seal.
For maximum natural light, Lifetime also offers plastic roof skylights that adhere to the roof panels.
Finishing Touches to Lifetime Shed Installation:
Apply finishes and accessories to complete your Lifetime shed installation:
Weatherproofing and Caulking
Lifetime sheds come with pre-formed panel connections that interlock tightly. But applying caulk ensures water cannot enter:
Caulk along joints where roof panels meet walls with exterior-grade polyurethane caulk.
Apply caulk around doors and windows for moisture protection.
Seal any gaps or holes drilled during assembly.
Adding Interior Storage and Organization
Customize the shed interior by adding:
Shelves mounted on side walls to maximize storage.
A workbench built from plywood and 2x4s for potting or projects.
Hooks, racks, and storage systems to keep items neat and accessible.
Paint or pegboard walls to personalize.
Decorating the Exterior
To give your shed a permanent finished look:
Stain or paint the exterior walls with exterior-grade finishing products.
Plant shrubs, flowers, or vines around the shed to match your landscaping.
Add number plaques, weathervanes, or other decorative exterior hardware.
Properly installed, your Lifetime shed will now provide years of reliable storage and visual appeal in your backyard.
Enjoy Your New Lifetime Shed
A Lifetime shed is perfect for keeping all your outdoor gear tidy and protected:
Store lawnmowers, rakes, shovels, and other lawn tools out of the weather.
Keep bicycles, grills, patio furniture, and seasonal items secure and dry.
Take advantage of the storage to free up garage space for vehicles.
Use the shed for workshop projects or hobbies away from the house.
The versatility and quality construction ensure it will meet your storage needs for years to come. Follow a regular maintenance schedule and your Lifetime shed will provide lasting function and value.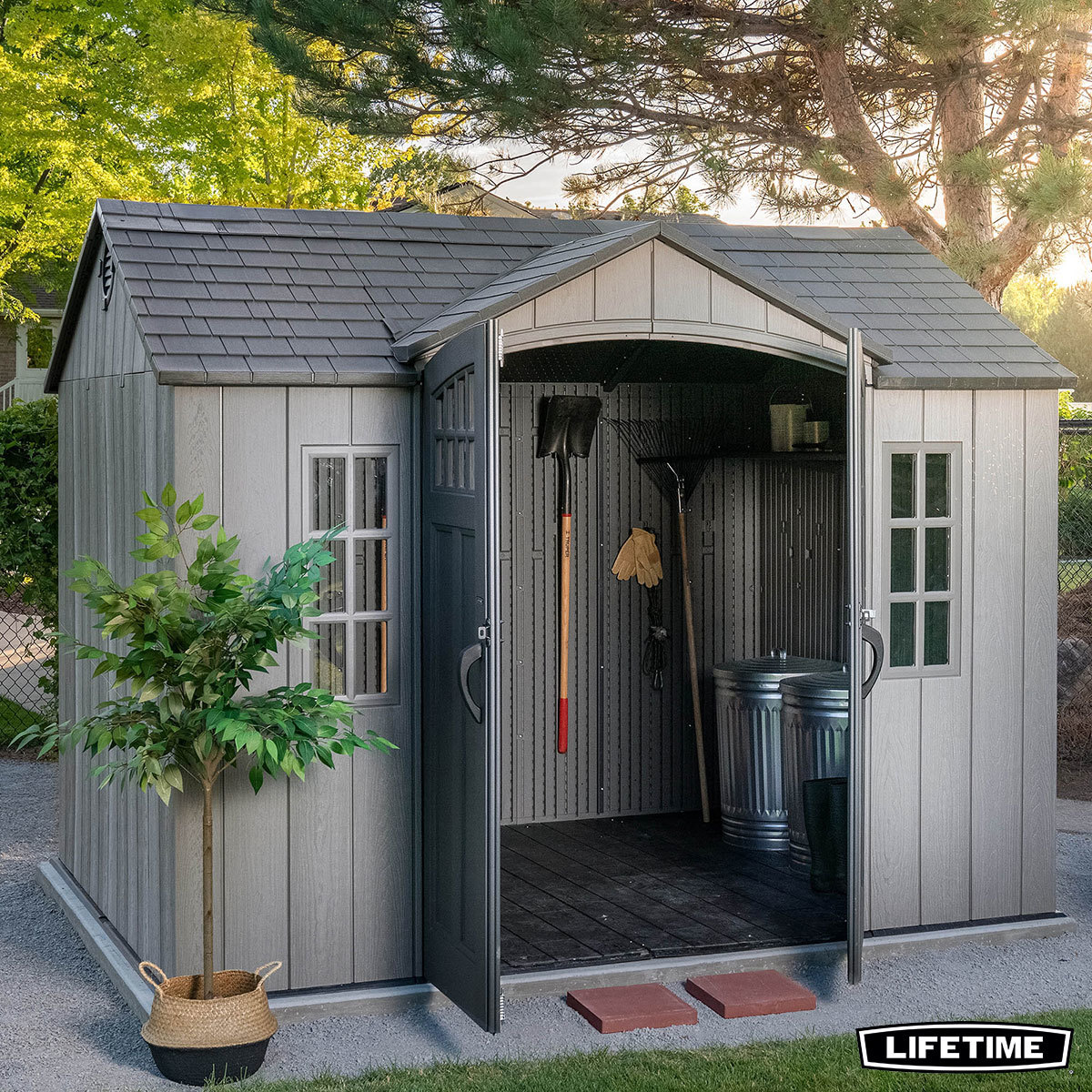 Conclusion
Follow this guide when installing your Lifetime shed, taking care to level the base, assemble components properly, seal, and weatherproof. Employing sound construction techniques will ensure your Lifetime shed lasts for many years. With a high-quality, properly installed Lifetime shed, you'll have a convenient place to keep all your valuables tidy, protected, and easily accessible.
FAQs
Can I hire professionals to install the shed for me?
Yes, if you prefer not to install the shed yourself, experts are available to do the job for you. You can hire a shed installation service or shed installation experts near you. These professionals are fully equipped to professionally install your Lifetime Shed, ensuring it is properly assembled and secure.
Are there any limitations or exclusions when it comes to shed installation?
There may be some limitations or exclusions to consider. For example, certain add-ons may not be included in the standard shed installation service. It is recommended to consult with the installation experts or the Lifetime customer service team to confirm any limitations apply.
How long does it typically take to install a Lifetime Shed?
The installation time can vary depending on factors such as the size of the shed, the number of people working on the installation, and the level of experience. On average, the installation of a Lifetime Shed can be completed within a day or two, with the help of another person.
Do I need to prepare the site before installing the shed?
Yes, it is important to prepare the site before installation. This typically involves building a level foundation to ensure stability and proper drainage. Lifetime sheds come with detailed instructions on how to build a suitable foundation for your shed, which should be followed closely.
Can I install a Lifetime Shed on my own?
Yes, it is possible. Though, it is recommended to have another person help you during the installation process, as some parts may require assistance to connect properly. Additionally, having another person can help speed up the installation process.
Can the Lifetime Shed handle heavy snow loads?
They are designed to withstand normal snow loads. However, for areas with exceptionally heavy snowfall, Lifetime offers a Snow Load Kit as an add-on. This kit increases the roof load capacity of the shed and provides added support during heavy snowfall.
What tools do I need to install a Lifetime Shed?
The installation of a Lifetime Shed requires basic tools that are commonly found in most households, e.g a screwdriver, wrenches, a level, etc. The specific tools needed may vary depending on the shed model, so it is best to refer to the instructions provided with the shed for the complete list of required tools.
About The Author
Andy Wu - Resident Expert