Find the Best Gazebo for High Winds and Rain in 2023
Looking to create an outdoor oasis that can withstand wind and rain? Choosing a high-quality, sturdy gazebo is the perfect solution. When selecting the best gazebo for your needs, focus on durability, weather resistance, and versatility. To help you find an ideal windproof gazebo, we've rounded up the top hardtop gazebos made to withstand windy and rainy conditions:
Canopia Milano 10' Gazebo - Best Overall
Kozyard Alexander Hardtop Gazebo - Most Durable
Paragon Outdoor Cambridge Hard Top Gazebo - Most Stylish
Sojag Valencia Wood Gazebo - Best Rated
Gazebo Penguin Florence Solarium - Highest Wind Resistance
Sunjoy Hudson Cedar Wood Pavilion - Most Spacious
Mykonos II Double Roof Hardtop Gazebo - Best for All Seasons
By choosing one of these thoughtfully constructed gazebos built to brave the extreme conditions, you can extend your living space outside and find refuge from the wind and rain. Keep reading for an in-depth look at each model's weather-resistant design and top features.
Best Gazebos For High Winds And Heavy Rain
1. Mykonos II Double Roof Hardtop Gazebo - Best for All Seasons
The Mykonos II Double Roof Hardtop Gazebo is an excellent option for creating an outdoor living space that can be used year-round. With its durable galvanized steel roof and rustproof aluminum frame, this gazebo is built to withstand intense weather, including high winds.
The gazebo comes in three sizes - 10'x12', 10'x14', and 12'x16' - to accommodate various needs. It features a double-track system for mosquito netting and curtains, providing protection from insects and weather. The included PVC-coated polyester mosquito netting is extremely durable and reduces wind and sun exposure.
Key Features:
Rustproof aluminum frame for longevity
Galvanized steel roof resists rust
3 size options from 10'x12' to 12'x16'
Double-track system for mosquito netting and curtains
Durable PVC-coated polyester mosquito netting
Stainless steel screws prevent rusting
Dark grey color scheme
Pros:
Durable construction withstands high winds
Mosquito netting reduces insect exposure
Available in multiple sizes to fit needs
Rustproof materials prevent decay
Cons:
May block sunlight from nearby windows
Instructions could be clearer with more visuals
Price:
$2,189.99
Final Verdict:
With its high-quality rustproof construction and excellent protection from sun, rain, insects, and high winds, the Mykonos II Double Roof Hardtop Gazebo is one of the best aluminum frame gazebos available. If you're looking to create a durable 4-season outdoor living space, this wind-resistant gazebo is a great choice that will provide years of enjoyment. The minor drawbacks of tricky assembly and potential window light blockage are outweighed by the gazebo's sturdy weather-resistant structure.
2. Canopia Milano 10' Gazebo - Best Overall
With its robust aluminum and polycarbonate construction, the Canopia Milano 10' Gazebo is designed to withstand high winds and create a comfortable outdoor retreat. The sturdy frame crafted from rust-resistant aluminum stands strong even in harsh weather conditions.
The tightly secured twin-wall polycarbonate roof panels are resilient to gusty winds. The integrated water drainage system keeps the interior dry by channeling rainwater away from the sides during downpours driven by blustery winds. Minimalistic laser-cut steel connectors further reinforce the structural integrity to prevent wobbling.
Key Features
All-weather protection with UV-resistant roof
Water drainage system to keep interior dry
Optional side curtains for insect protection
Corrosion-resistant aluminum frame
Twin-wall polycarbonate roof for durability
Bronze roof glazing for elegance
Integrated rails to hang curtains or nets
100% UV protection from harmful rays
Diffused natural lighting
Withstands rain, wind, snow year-round
Simple assembly with 2 people
Pros
Provides shade and UV protection
Keeps interior dry during rains
Creates an outdoor room for gatherings
Very sturdy and durable construction
Withstands all weather conditions
Easy DIY assembly
Cons
The semi-translucent roof shows dirt
Minimalist design lacks decorative flair
Price
$1,724.99
Final Verdict
With robust aluminum construction designed to brave even the harshest winds, the Canopia Milano 10' Gazebo is a top choice for high-wind areas. The sturdy frame and securely fastened roof prevent wobbling while keeping the interior dry on stormy days. For homeowners seeking a heavy-duty gazebo that can withstand heavy winds year-round, the Canopia Milano 10' Gazebo is an ideal solution.
3. Kozyard Alexander Hardtop Aluminum Permanent Gazebo - Most Durable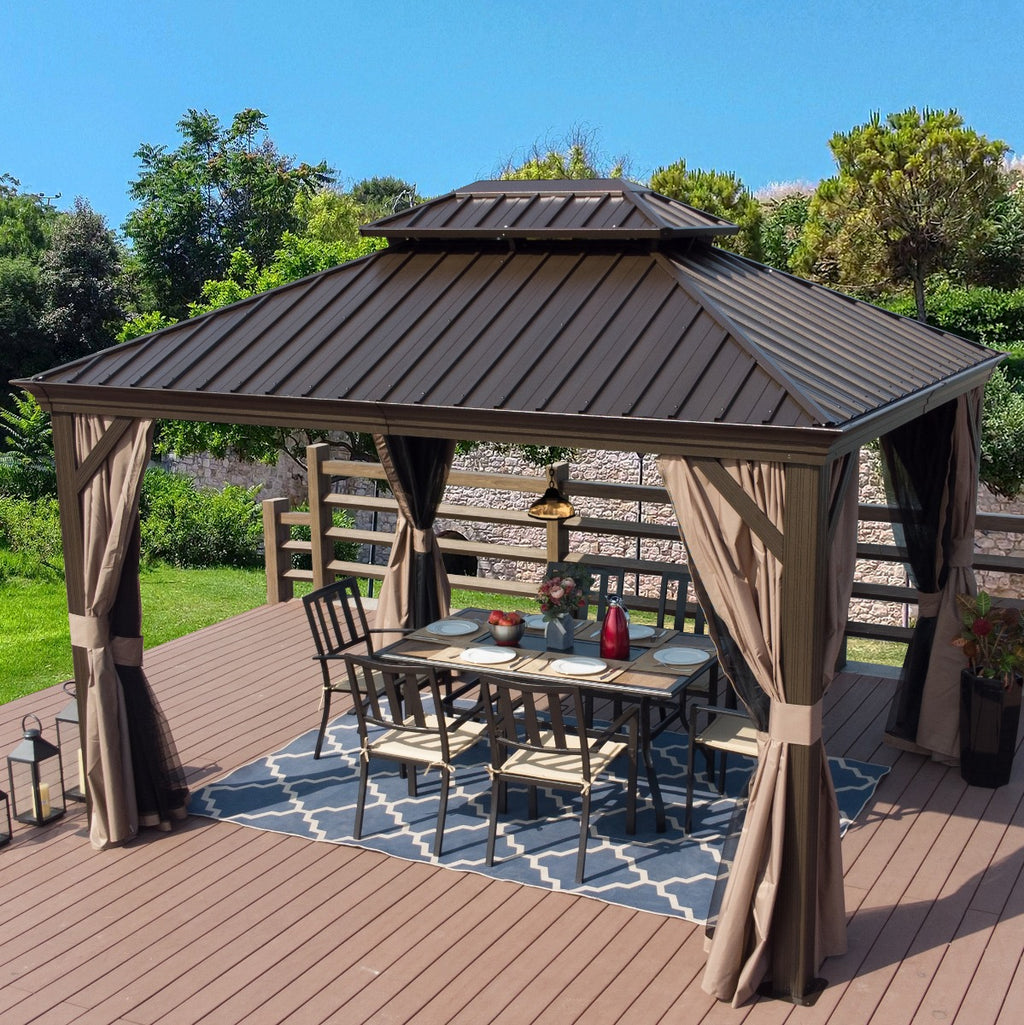 The Kozyard Alexander Hardtop Aluminum Gazebo is one of the most durable and wind-resistant permanent gazebos on the market. This gazebo is made of heavy-duty rustproof aluminum frame and galvanized steel roof which enables this gazebo to withstand high winds up to 40 mph.
At 113" x 139" footprint and 118" x 143" roof coverage, the Alexander gazebo provides a good amount of shade and protection. The triangular aluminum poles measure 4.7" x 4.7", much larger than standard models, making them extremely sturdy. The hardtop metal roof can withstand heavy snow loads up to 2500 lbs and is covered by a 1-year warranty.
With double-layer sidewalls, excellent ventilation, removable railings, and durable mosquito netting, the Alexander gazebo is perfect for high-wind areas Overall, its high-quality construction and materials make it one of the toughest gazebos available today.
Key Features
Hardtop metal roof with 1-year warranty, galvanized steel construction
Rustproof dark brown aluminum frame with 4.7" x 4.7" triangular poles
Removable steel railing on 4 sides for safety
Durable PBV-coated polyester mosquito netting
2 layers of sidewalls – mosquito netting and 180gsm polyester solid sidewall
Excellent ventilation from a double-layer design
The gutter system ensures proper water drainage
Pros
Extremely sturdy and durable construction can withstand all weather conditions
Large footprint and roof coverage provide ample shade
Hardtop metal roof is more durable than fabric canopies
Rustproof aluminum frame will last for years without maintenance
Removable railings add safety and versatility
Cons
Decorative curtain tiebacks are longer than needed
Minor quality control issues are possible with some parts
Price
$1,449.99
Final Verdict
The Kozyard Alexander Gazebo is one of the toughest gazebos you can buy for windy areas, thanks to its rugged aluminum/steel construction. With a wind rating of 40 mph, this sturdy structure is designed to stand up to gusty conditions for years. If you need maximum strength and wind resistance for your outdoor space, the Alexander Gazebo is an excellent choice.
4. Paragon Outdoor Cambridge Hard Top Gazebo - Most Stylish
The Paragon Outdoor Cambridge Hard Top Gazebo features a vented dome roof that allows airflow to pass through, providing extra stability in windy conditions. The heavy-gauge aluminum frame is powder-coated for protection against adverse weather. Twin-layer aluminum roofing not only looks great but also reduces noise from rainfall.
With pre-drilled holes and included hardware, the Cambridge Hard Top Gazebo can be securely anchored to concrete or a wooden deck. The gazebo can also be staked to the ground if desired. Setup takes two to three people around 6-12 hours, depending on skills.
Key Features
Durable aluminum frame with powder coating
Twin-layer aluminum roof reduces noise
Vented dome roof for airflow and stability
UV protection on the frame and roof
Can be anchored to concrete or wood
Includes ground stakes
Takes 2-3 people 6-12 hours to assemble
Pros
Excellent wind resistance due to vented roof
Durable aluminum frame built to last
Reduced noise from dual-layer roof
Can be securely anchored for stability
UV protection prevents fading
Cons
The roof may sag over time
Some hardware may fall off over the years
Price
$2,750.00
Final Verdict
The Paragon Outdoor Cambridge Hard Top Gazebo is a great option for homeowners needing a sturdy, high-wind-resistant gazebo. The vented aluminum dome roof and secure anchoring capabilities make this gazebo very stable in windy conditions. Just be prepared for a lengthy, difficult assembly and the possibility of some wear after a few years. Overall, this is a durable and attractive gazebo perfect for windy backyards.
5. Sojag Valencia Wood Gazebo - Best Rated
The Sojag Valencia Wood Gazebo stands out as one of the best-rated backyard gazebos for its durable construction and ability to withstand windy conditions. With its sturdy powder-coated frame, steel roof, and overall wind-resistant design, the Valencia gazebo is a top choice for areas prone to harsh weather.
Its quality materials and construction allow it to hold up against strong winds and rain while providing a stylish backyard retreat. The Valencia gazebo has a discreet two-track system that makes attaching the included mosquito net and privacy curtains a breeze. This allows you to easily customize your space for comfort and privacy.
Key Features
Durable powder-coated aluminum frame with wood grain finish
Corrosion-resistant galvanized steel roof
Convenient two-track system for mosquito net and curtains
Includes high-quality PVC-coated mosquito netting
Meets international CPAI-84 fire safety standards
All-season use
Pros
Attractive design and finish
Sturdy and well-constructed
Easy to assemble
Provides shade and protection from bugs
Customizable with curtains
Cons
The manual could use more details
Drainage design needs improvement
Price
$2,874.99
Final Verdict
With its wind-resistant build, elegant style, and durable construction using high-quality materials, the Sojag Valencia Wood Gazebo is one of the best-rated backyard gazebos available. Despite a few minor drawbacks, this gazebo's overall quality, customizable design, and ability to withstand wind and heavy rain make it a top-rated choice for a stylish and sturdy backyard retreat.
6. Gazebo Penguin Florence Solarium - Highest Wind Resistance
The Gazebo Penguin Florence Solarium stands out for its unmatched wind resistance, with its reinforced polycarbonate roof panels rated to withstand winds up to 54 mph. Constructed with a powder-coated aluminum frame for durability, this gazebo creates a protected yet breezy relaxation space in your backyard.
The smoke-colored translucent roof blocks 97% of harmful UV rays while still allowing light into the interior. The roof's 8mm thick polycarbonate material provides robust protection from unfavorable weather. Designed with an interior height of 9'2", the solarium offers ample headroom. Sliding doors on one or both sides open 36" wide, providing versatile access and airflow control. Windows includes screens to keep bugs out while allowing fresh air in.
Key Features
Aluminum frame with max 54 mph wind resistance
8mm thick polycarbonate roof blocks 97% UV rays
9'2" interior height
Sliding doors on one or both sides, 36" opening
Screens on windows block bugs
3 available sizes: 12x12, 12x15, 18x18
Doors can open left or right
100 lb/sqft maximum roof load capacity
Anchors into concrete recommended
Pros
Provides protection from sun, rain, and snow
Blocks UV rays while allowing light
Adaptable doors enhance convenience and accessibility
Translucent panels offer a perfect blend of light and shade
Cons
Soft plastic windows might require replacement over time

Possible bug entry at panel gaps
Price
$3,367.83
Final Verdict
With unmatched wind resistance and durable construction, the Gazebo Penguin Florence Solarium is an excellent choice for a backyard relaxation space. The sturdy aluminum frame and UV-blocking polycarbonate roof stand up to the weather conditions while creating an airy, shaded interior. Despite some minor drawbacks, this solarium's high-quality materials and versatile design make it a great option for your outdoor living needs.
7. Sunjoy Hudson Cedar Wood Pavilion - Most Spacious
The Sunjoy Hudson Cedar Wood Pavilion is a premium large gazebo made from 100% FSC-certified cedar lumber. This ready-to-assemble gazebo kit comes with all the necessary wood, hardware, and metal components to build a spacious 14' x 13' gazebo.
The Sunjoy gazebo has a beautiful brown stain and durable protective paint coating to ensure the cedar wood lasts for years. The sturdy cedar lumber frame paired with a brown steel roof allows this gazebo to withstand weather elements while providing shade and comfort.
Key Features:
100% FSC-certified cedar lumber with brown protective stain
Accommodates most full outdoor furniture sets
Cedar wood frame with brown steel roof
Rectangular footprint measuring 14' L x 13' W x 10.5' H
Assembles with screws (included)
Withstands snow loads up to 11 lbs
Pros:
Beautiful, natural cedar wood construction
Large space fits multiple seating areas
Durable weather-resistant materials
Easy to assemble with included hardware
Matches a wide variety of outdoor furniture
Cons:
Assembly directions could be more detailed
May need additional hardware for extra stability
Price:
$1,106.43
Final Verdict
Overall, the spacious Sunjoy Hudson Cedar Wood Pavilion is the best large cedar wood gazebo for creating an elegant outdoor living space. The high-quality cedar and protective finishes result in a gorgeous yet rugged gazebo that will stand up to the weather while providing ample shade and space. Although assembly takes time, the final gazebo is worth the effort for any large patio or backyard.
Things to Look for When Buying a Gazebo for High Winds
When purchasing a gazebo meant to withstand high winds, there are several important features and considerations to keep in mind:
Sturdy, Durable Frame
The frame should be made of strong, heavy-duty materials like powder-coated steel or aluminum. This prevents the frame from bending or breaking in strong winds.

Look for thick poles and beams over lightweight options. Thicker frame components add stability.

Choose permanently anchored or weighted gazebos over portable options. Anchored or weighted frames are harder to blow over.
Wind-Resistant Roof
Hardtop or solid roofs like metal, aluminum, or polycarbonate can better withstand wind pressure versus fabric canopies.

Domed, rounded, or pointed roofs allow wind to glide over instead of lifting the roof.

Vented roofs circulate air to reduce wind resistance while preventing lifts.
Secure Fastening System
All joints and connection points should be tightly screwed or bolted for maximum stability.

Reinforced corner joints are crucial to handle wind stress and prevent loosening.

Look for integrated cable systems or anchor points to firmly tie down the entire structure.
Wind Rating
Check the manufacturer's wind rating and ensure the gazebo can withstand gusts in your area.

Look for ratings of at least 30-40 mph for moderate wind areas and 50+ mph for very high winds.
Prioritizing a sturdy, fortified frame, wind-resistant roof, robust fastening, and high wind rating will ensure your gazebo remains secure in blustery conditions. Always follow the manufacturer's setup and anchoring instructions carefully too.
Final Words
A high-quality, windproof gazebo can help you enjoy the outdoors regardless of weather conditions. By opting for a sturdy model made to withstand wind, rain, and other elements, you can create a cozy oasis in your backyard. The gazebos featured here are specially engineered to brave windy and rainy conditions with features like vented roofs, drainage systems, and reinforced panels. Choosing one of these thoughtfully constructed options will allow you to get the most enjoyment from your outdoor living space, rain or shine.
FAQs
How do I choose a gazebo that can withstand heavy winds?
When choosing a gazebo that can withstand heavy winds, consider opting for a hardtop gazebo with wind panels. These types of gazebos are designed to be strong and sturdy, making them suitable for areas with high winds.
How do I make sure my gazebo is secure during high winds?
To ensure your gazebo remains secure during high winds, opt for a sturdy gazebo with a windproof design. Additionally, make sure to follow the manufacturer's instructions for securing your gazebo to the ground properly.
What are some key features to look for in the best gazebo for high winds?
Some key features to look for in the best gazebo for high winds include sturdy construction, windproof design, and the ability to secure the gazebo securely. Additionally, considering a gazebo with wind panels can provide extra protection against strong winds.
Can any gazebo withstand high winds?
Not all gazebos are capable of withstanding high winds. It is crucial to choose a gazebo specifically designed to handle high winds if you live in an area prone to strong gusts.
About The Author
Andy Wu - Resident Expert