5 Best Pergola Kits of 2023 - Top-Rated Pergolas for Your Backyard
Looking to add shade and style to your backyard? A pergola can provide the perfect outdoor hanging space for relaxing or dining al fresco. With so many options available, we've compiled this list of the 5 best pergola kits for 2023 to help you find the right one:
Paragon Outdoor Florence Aluminum Pergola - Most Stylish
Outdoor Living Today Cedar Pergola Kit - Premium Quality
Paragon Outdoor Modena Aluminum Pergola - Best for Year-Round Shade
Backyard Discovery Cedar Pergola - Best Wooden Pergola
Sunjoy Meadow Arched Pergola With Canopy - Best Under $500
Whether you're looking for durable woods like cedar, low-maintenance vinyl, or retractable shade options, this guide covers the top-rated pergola kits to create your ideal outdoor hangout. Let's dive in and find your perfect pergola!
1. Paragon Outdoor Florence Aluminum Pergola - Most Stylish
The Paragon Outdoor Florence Aluminum Pergola is an elegantly designed pergola that will enhance the beauty of any outdoor space. This pergola stands out with its convertible roof canopy, which can be manually opened and closed to allow just the right amount of sun. The rust-free aluminum frame along with the embedded wood grain technology gives it the look of natural wood without the maintenance.
With a coverage area of 176 sq. ft., this spacious 11' x 16' pergola provides ample shade. The reinforced and durable aluminum frame can withstand wind speeds up to 80 mph. Overall, the Florence pergola combines stylish good looks with exceptional durability.
Key Features
A convertible roof canopy allows you to control sun exposure
Rust-free aluminum frame for durability
Embedded wood grain technology for natural wood look
Powder-coated frame available in 3 colors
Canopy is also available in 3 colors - Sand, Cocoa, and Off-White
Withstands wind speeds up to 80 mph
Anchoring hardware included for stability
UV protection for frame and canopy
6 years frame and 1 year canopy warranty
Pros
Stylish design with a natural wood look
A convertible canopy allows sun control
Durable aluminum frame resists rust
Withstands high wind speeds
UV protection increases durability
Cons
Assembly requires some drilling/modification
Canopy lets some light through
Price
$1,999.00
Final Verdict
The Paragon Outdoor Florence Aluminum Pergola combines visually appealing looks with excellent durability. The convertible canopy, durable aluminum frame, and natural wood finish give it a high-end style. With ample 11' x 11' shade coverage and wind resistance of 80 mph, it is built to last for years. Some minor assembly modifications may be needed but overall it is one of the most stylish and durable pergolas available. For a fashionable pergola that enhances outdoor beauty, Florence is a top choice.
2. Outdoor Living Today Cedar Pergola Kit - Premium Quality Pergola
For those who want a top-of-the-line cedar pergola to create an elegant outdoor oasis, the Outdoor Living Today Cedar Pergola Kit is a premier choice. Constructed from sustainably sourced Western Red Cedar, this pergola is naturally beautiful yet hardy against weather, rot, and pests.
The spacious 12x16 footprint provides ample room for lounging and entertaining underneath. At a height of 108 inches, adults can comfortably stand underneath. The cedar lumber is left unfinished so you can customize the look with your ideal stain or sealer. Crisscrossing sculptured joists and girders give it an architecturally stylish appearance.
Key Features
Western Red Cedar construction resists decay, and insects, provides durability
12' x 16' dimensions offer ample shade
Engineered 5.5" x 5.5" posts for strength and stability
Sculpted joists and crisscrossing girders for architectural style
Cedar skirting panels to conceal post-mount hardware
Pre-marked and pre-drilled parts for easier assembly
Hardware included - lag bolts, screws, nails, some stainless steel
Pros
Great value for a cedar wood pergola kit
Generous amount of shade and headroom
Naturally beautiful and durable cedar construction
Pre-cut parts marked for intuitive assembly
Hardware included for convenience
Cons
A bit expensive
Does not include post-mount brackets
Price
$4,399.00
Final Verdict
For those seeking an attractive and well-constructed cedar pergola, the Outdoor Living Today Cedar Pergola Kit is an excellent choice. With its pre-cut parts, included hardware, and cedar's natural durability, it provides great value for money. The kit allows you to add beautiful, low-maintenance shade to your outdoor space. Just be prepared to put in some assembly work. But with detailed instructions and markings, the pergola can come together smoothly. Overall, this pergola kit delivers on style, quality, and affordability.
3. Paragon Outdoor Modena Aluminum Pergola - Best for Year-Round Shade
The Paragon Outdoor Modena Aluminum Pergola is the ideal choice for year-round shade and relaxation in your backyard. With its beautiful espresso-colored aluminum frame and mocha canopy, this pergola adds style and functionality to any outdoor space.
The key feature of the Modena is its convertible canopy. You can manually slide the canopy back and forth to control sun exposure. Fully open the canopy at night to stargaze or leave it partially closed during the day for shade. The durable aluminum frame has a powder-coated espresso finish that resembles wood. Available in 3 sizes, this sturdy pergola can withstand wind gusts up to 80 mph. It's designed for year-round use so you can enjoy your outdoor space in any season.
Key Features:
Convertible canopy slides open & closed to control sun exposure
Durable aluminum frame with espresso powder-coated finish
Available in 12x12, 12x16 and 12x20 sizes
Withstands winds up to 80 mph
Designed for year-round use in all seasons
Flat roof design with included mocha canopy
Rectangular footprint
Pros:
Provides cooling shade or sunlight when you want it
Attractive espresso and mocha color scheme
Sturdy aluminum construction built to last
Converts patio into a livable outdoor room
Cons:
Canopy is water-resistant but not entirely waterproof
Challenging for one person to assemble alone
Price:
$1,899.00
Final Verdict
The Paragon Modena Pergola stands out for its versatility and durability. The sliding canopy allows you to customize sunlight and shade as needed, while the durable aluminum frame is built to withstand all types of weather. Though the canopy isn't completely waterproof, the stunning design and adjustable shade make this an excellent choice for creating an outdoor living space. If you're looking to extend your home's livable space outside, the Modena Pergola is a smart long-term investment.
4. Backyard Discovery Cedar Pergola - Best Wooden Pergola
The Backyard Discovery pergola features a beautiful open-topped design with sculpted beams that let in dappled sunlight. At 14 feet wide by 10 feet deep, it offers a spacious interior area for entertaining or relaxing outdoors. The cedar upright posts measure a sturdy 5 1/2 inches across and include diagonal braces for added structural integrity.
Decorative foot covers hide anchor bolts that keep the pergola firmly in place. With 6 feet 7 inches of headroom underneath, you can comfortably walk through or position patio furniture inside. The medium brown pre-stained cedar has tight wood grain for durability and resistance to cracks.
Key Features
Durable rot-resistant cedar wood construction
Patented decorative foot covers anchor the pergola
Spacious 14 x 10 ft. interior area
Sculpted open-beamed ceiling
Sturdy 5 1/2 inch posts with diagonal bracing
Pre-cut, pre-stained and ready-to-assemble

Includes an app that offers a 3D guided installation guide.
Pros
Durable and rot-resistant cedar construction.
Patent-pending foot covers for added stability.
Spacious design provides a comfortable outdoor space.
Ready-to-assemble kit simplifies installation.
Sturdy posts and diagonal braces for structural strength.
Cons
Hardware quality could be improved for easier assembly.
Ensuring precise alignment during assembly is required.
Price
$1,399.00
Final Verdict
For a sturdy and stylish backyard pergola, the Backyard Discovery Cedar Pergola is a top choice. The durable all-cedar construction can handle any weather while providing a rustic design that complements other backyard structures. With pre-cut parts and included assembly instructions, it's straightforward to put together as long as care is taken to align pieces precisely. For a quality cedar pergola that will upgrade any outdoor space, the Backyard Discovery model is hard to beat.
5. Sunjoy Meadow Arched Pergola With Canopy - Best Under $500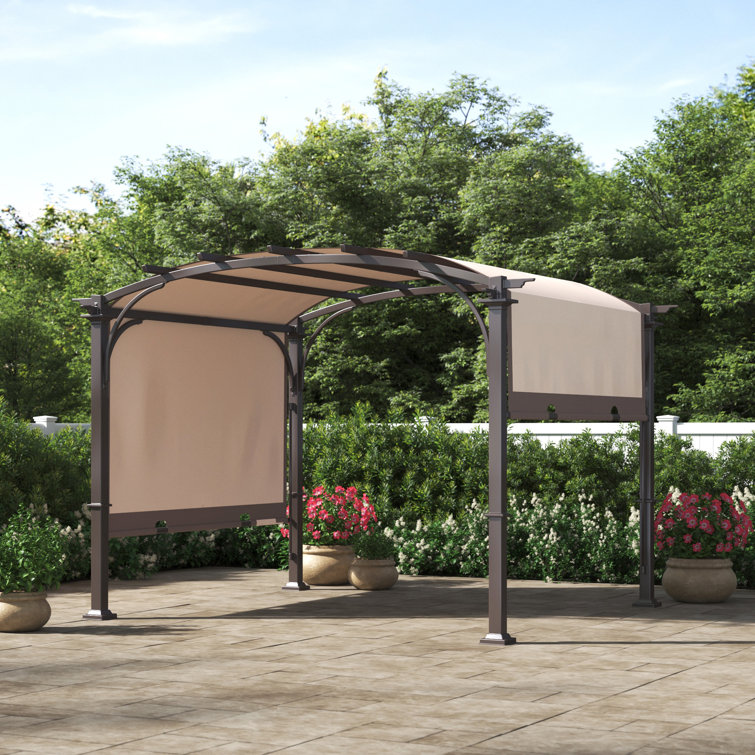 The Sunjoy Meadow Arched Pergola provides a stylish outdoor space to relax under. With an adjustable canopy and sturdy steel frame, this pergola is a great budget-friendly option for under $500.
The arched powder-coated steel frame gives the pergola an attractive look that complements any backyard. Triangle braces on the legs and beams add structural support. The canopy is made of polyester and can be adjusted on each side to allow you to customize the amount of sun or shade.
Key Features:
Anchor and mounting hardware included
Adjustable polyester canopy
Powder-coated steel frame for durability
Triangle leg braces for stability
Easy to assemble with instructions
Pros:
Attractive arched design
Durable steel construction
Customizable sun/shade options
Removable canopy for easy storage
Cons:
Canopy susceptible to ripping
Water can pool on the canopy top
Price:
$384.56
Final Verdict:
For under $500, this pergola is a great budget-friendly option that combines style, customization, and quality. The quality steel frame provides a stable foundation and weather resistance while the retractable canopy allows for adjustable shade. While the canopy may be prone to ripping over time, it's easily removable for storage or replacement. Overall, this is an excellent choice for anyone wanting an affordable pergola with flexibility and an upscale look.
5 Tips for Finding the Perfect Pergola
A pergola can transform your backyard into an inviting, shaded oasis. Here are some tips to help you pick out the ideal pergola kit for your space:
Choose durable materials
Look for weather-resistant woods like cedar that can handle sun, rain, and snow. Also make sure to anchor your pergola securely into the ground, especially if you live in an area with frequent strong winds. Some of the best pergolas for high winds use reinforced concrete footings and heavy-duty anchoring. A professional installer can ensure your pergola is properly secured.
Consider your needs
Will you mainly use the pergola for dining or lounging? Do you want curtains or vines for more shade? Understanding how you'll use it will guide you to the right size and features.
Mind the measurements
Carefully measure your backyard area before ordering a kit to ensure the pergola will fit nicely in the space. Leave enough room around it so you can comfortably move around it.
Factor in style
There are many pergola styles, like modern, rustic, or farmhouse to match your yard's look. Louvered pergolas are also a popular choice, providing adjustable sunlight control. The style you choose comes down to personal preference.
Check reviews
Look at customer reviews and photos to get a good idea of the quality of the pergola kit before purchasing. This can help avoid disappointments.
With the right pergola kit, you'll have a backyard oasis in no time! Careful planning and selection will help ensure it's a space you'll enjoy all year long.
Conclusion
With so many great options, it can be tricky to select the best pergola kit for your needs. Important factors like budget, ease of installation, materials, and customization can help narrow your choices. Be sure to consider your climate as well. All-weather vinyl or powder-coated aluminum performs best in wetter regions compared to natural woods. And don't forget aesthetics - pick a style that complements your outdoor space. Use this guide to hone in on the perfect pergola that will provide shade, style, and lasting enjoyment for years to come.
Frequently Asked Questions
Are vinyl pergolas better than wood pergolas?
Vinyl pergolas are often preferred over wood pergolas because they require less maintenance, are resistant to rot and insects and have a longer lifespan.
Do all pergola kits come with a retractable canopy?
No, not all pergola kits come with a retractable canopy. It depends on the specific kit you choose. However, there are kits available that do include a retractable canopy for added convenience.
Do pergolas provide UV protection?
Yes, pergolas provide some level of UV protection by providing shade from direct sunlight. However, the level of UV protection may vary depending on the materials used and the design of the pergola.
What are the benefits of a vinyl pergola?
Vinyl pergolas are low maintenance, durable, and resistant to rot, insects, and UV rays. They also offer a sleek and modern look to your outdoor space.
Do I need any special tools to assemble a pergola kit?
It depends on the specific pergola kit you choose. Some kits require basic tools such as a screwdriver and drill, while others may require additional tools for assembly.
About The Author
Andy Wu - Resident Expert